Osun Seegesi: The Elegant Deity of Wealth, Power, and Femininity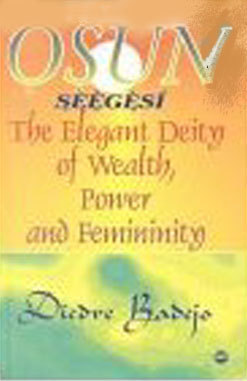 Book Review by Margaret Thompson Drewel in Research in African Literatures 31.2 (2000) 228-232

Diedre Badejo's study is a tribute to the powerful and beautiful Yoruba deity of sweet water, Osun, who hails from the Osun River in Nigeria and has settled in the African diaspora in Latin America, the Caribbean, and the US as a result of the slave trade. Badejo's access to Osun is through the orature and ritual drama of the annual Osun festival performed in the Ijesa city of Osogbo. She gives the reader entrée to the subject in the transcription and translation of a poetic incantation chanted for Osun by priests dedicated to her service. Badejo acknowledges that she cannot convey the agility and grace of the priest's vocal performance. Instead, she transliterates and annotates the Yoruba text to get at the complex "symbolism, imagery, and meaning" in the poetry (2). In so doing, she enlisted the help of scholars of Yoruba language, art, and religion, Yiwola Awolaye, Rowland Abiodun, and Kehinde Olupona, respectively, to verify and nuance the text.